Holy Cow! Have you seen?
I have snazzy, new SOCIAL MEDIA ICONS!! So much better than the old, drab and boring, grey ones I was sporting. Aren't they cheery?
Michelle at
The Momma Bird
did them up for me! Can I say what a gem that girl is to work with? Quick, honest and does a ridiculously good job! If you're needing some new looks for 2012 on your blog she's definitely the one to hit up. Plus, if you haven't you should really check out her blog too, you won't be sorry.
And just for the record, I'm on Bloglovin' now - so go ahead hit that little "bl" button over there on the left and follow me there...go on show that cute little button some love - you know you want to!
And last but not least....
WHAT DO YOU MEAN YOU HAVEN'T ENTERED THE
BIG
GIVEAWAY YET?
Here are some of the items up for grabs to ONE lucky winner...
Target Gift Card
8x10 Photo Canvas
Starbucks Gift Cards (yup, more than 1!)
Ad space
8x10 Family Name Canvas
Scentsy Burner
Custom Beaded Knot Necklace
Handmade Headbands
Gift Certificate's to 3 Etsy Shops
Hair Accessories with coordinating Rings
Cosmetic Bag from Thirty One
Handmade Cellphone Pouch
Customizable Blog Template
YOU
could be that ONE lucky winner!
And you can enter here: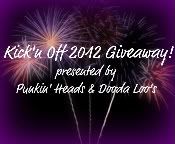 .
Good Luck!